Here's a bunch of PIC projects that i've done in the past.
All projects have been written in C using the High-Tech C compiler free from Microchip.
Source code is available on request!
Elevator
Elevator that has external "elevator call" buttons and internal "floor select" buttons. Also has the "elevator moving up/down" lights and a "door open/close" indicator(red and green LEDs) on the elevator box.
Written for my Real-time systems class.
Features a PIC16F886 microcontroller, rebuilt K'nex motor, and some Popsicle sticks (holla).
Main functions:
-Using external Interrupt pin, and interrupt service routine
-Basic Digital I/0 (turning LEDs on and off, accepting button input)
-Motor forward/reverse control using H-Bridge circuitry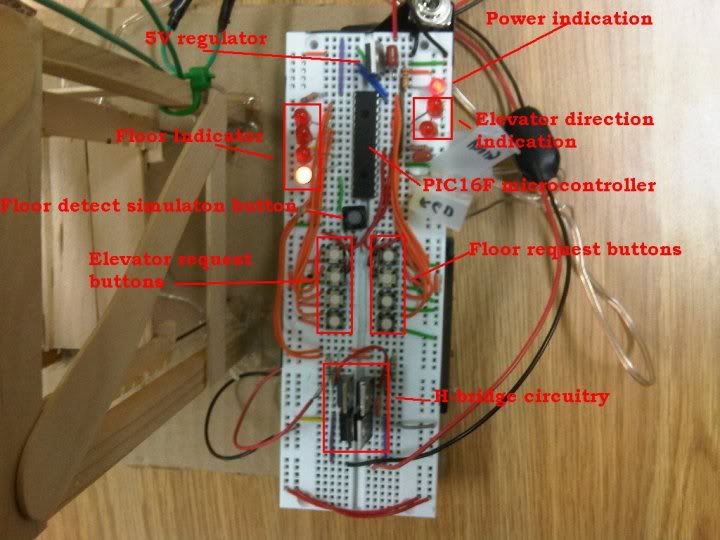 5x7 LED matrix message display
Supposed to be a belt buckle type thing that scrolls messages. 5x7 LED matrix is available from Digikey for ~$5.
Mainly used it to learn how LED arrays work. Also uses PIC16F886.
The code for this one is kind of spastic and brutal, i'll probably just supply snippets of it/algorithms that i know work if people want it.
Main Functions:
-LED matrix addressing
-Basic (VERY basic) graphics generation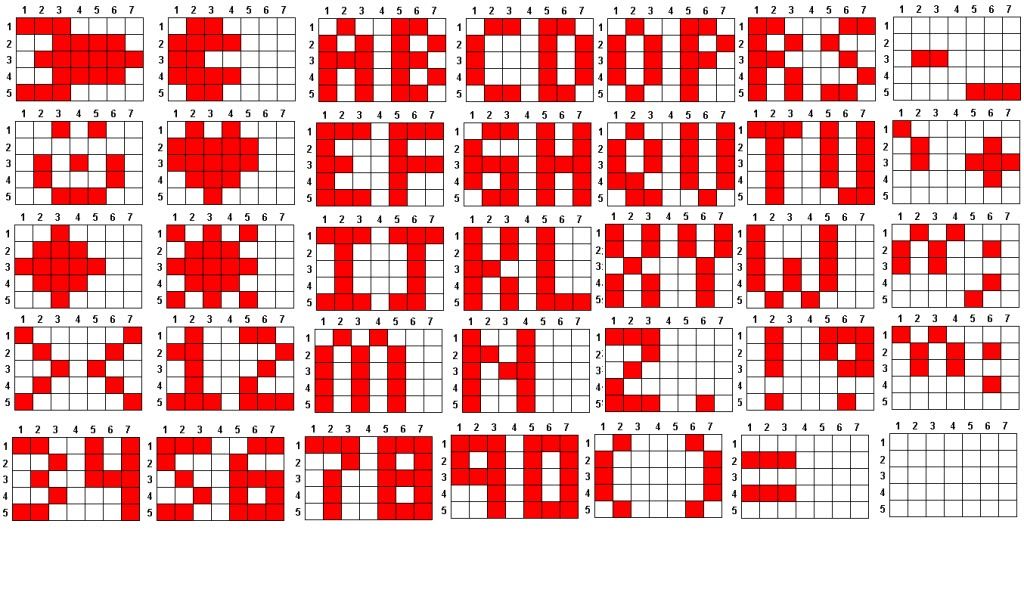 7x12 LED matrix Display
More dabbling with LED matrices. This time it features some truly disgusting soldering of an LED lattice structure(i had to redo it once, that's why it looks so terrible).
It just scrolls messages. Kinda fun in a useless way. Also, the circuitry is not the best, I just had a bunch of transistors laying around.
There's a movie of it in action, i'll post that later.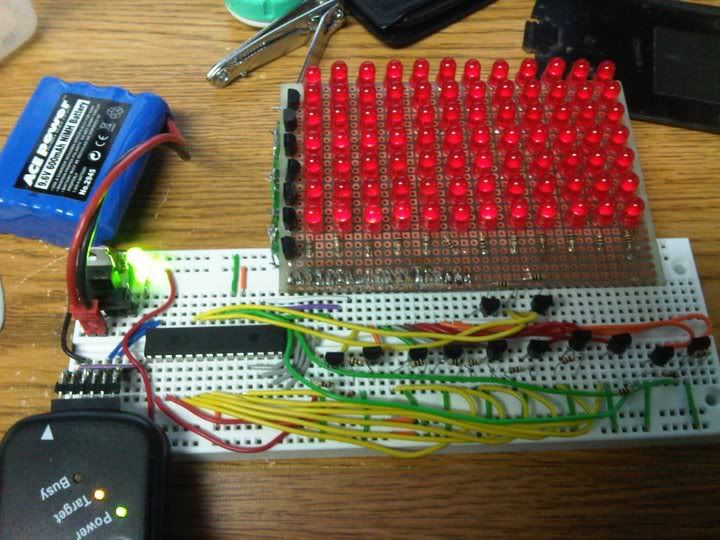 RGB 2x16 LCD display with ADC and PWM
This one is fun, It makes pretty colors.
Features a PIC16F887, similar to an 886, but has a few more pins to use.
It also is supposed to control a servo using PWM, but the servo is quite jittery and i ran out of time to fix it. Also, i don't have an oscilloscope at home to diagnose the problem.
Main Features:
-2x16 LCD (RGB backlit...every color of the rainbow!)
-ADC (Analog-to-digital converter) use to read in a stereo volume knob
-PWM (pulse width modulation) to control a servo.
-Digital button input
Other colors can be seen here:
http://i577.photobucket.com/albums/ss21 ... 7928_n.jpg
http://i577.photobucket.com/albums/ss21 ... 0728_n.jpg
http://i577.photobucket.com/albums/ss21 ... 2864_n.jpg
Bus Terminal Identification System
Built for my third year design class, utilizes Laird 2.4Ghz wireless radios via RS232.
It basically turns on the internal UART and spits out information to the RS232 interface.
Features:
-PIC16F886
-Internal UART for serial communication
-MAX232 for RS232 communication using a DB9 interface
Poor Man's Roomba
I tried to make a Roomba-type robot for extremely small amounts of dollars. It didn't quite work out since i needed to gear down the motors to make it actually move.
It's sitting around the $7 mark.
Features:
-PIC16F616
-L293NE Bridge driver
-3v hobby motors
-Random movement algorithm